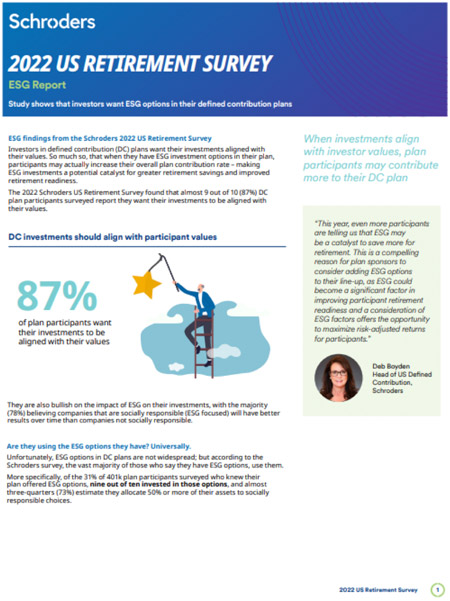 2022 U.S. Retirement Survey
Schroders (2022)
Schroders, a global asset management firm, partnered with 8 Acre Perspective to conduct the third wave of its annual study focused on retirement attitudes and trends.
This study was conducted among 1,000 U.S. consumers aged 45-79. Highlights include:
Working Americans say it will take an average of $1,100,000 in savings to retire comfortably, yet 56% expect to have less than $500,000 saved, including 36% forecasting less than $250,000 in savings.
Compared to a year ago, Americans express greater concern about retirement affordability, and nearly half believe they do not have enough saved for retirement.
Americans are not maximizing the value/potential of social security. While most recognize that the Social Security payout is higher the longer you wait to take it, most plan to take or did take Social Security benefits before age 70.
While most Americans find the idea of retirement planning overwhelming, the majority of those who do have a plan say it has put them on a better path to a secure retirement.
Seven in 10 working Americans plan to continue working in retirement, with the primary reasons being to cover basic living expenses, stay busy, and keep active and in good health.
This research has been cited in Bloomberg, Ignites, and Financial Advisor Magazine, among others.
Click to Access Schroders Website
Click to Read Report #1
Click to Read Report #2